Discover the Benefits of Dental Crowns for Improving Tooth Appearance & Restoring Functionality. Learn the Reasons, Types, Steps, and Potential Complications. Learn More Today! A dental crown, a tooth-shaped cap placed over damaged, discoloured or misaligned teeth, can restore shape, size, strength, and appearance. With a lifespan of over a decade, dental crowns are a popular solution. Learn the reasons for needing a dental crown, the various types available, the steps in the crowning process, and potential complications to be aware of in this informative article.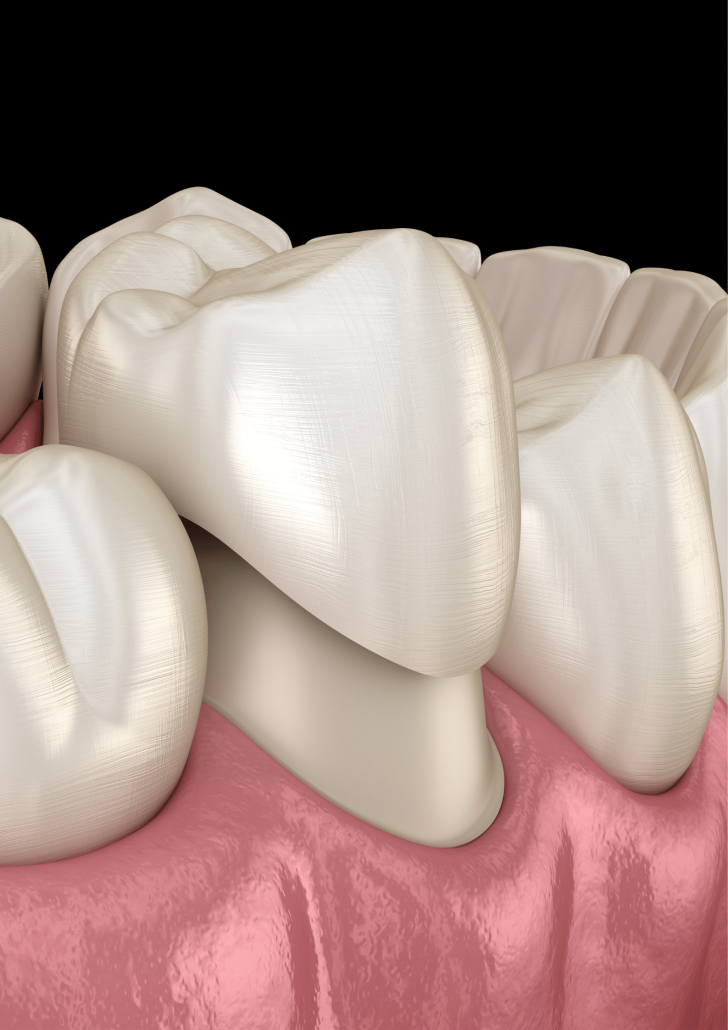 Three reasons why you might need dental Crowns
There are several reasons you might need a dental crown. The most common reasons include a cracked, broken or worn-out tooth, a discoloured tooth, and a misaligned tooth.
A cracked, broken or worn-out tooth – If a tooth has become weak or fractured due to an accident, root canal treatment, trauma or even from opening objects with the teeth, a dental crown can help restore its functionality
A discoloured tooth – Stains that cannot be removed through other means and make it difficult to smile or express oneself can be treated with a dental crown. The affected tooth is trimmed and then covered with the crown. This can occur due to excessive fluoride intake during development, certain medications during pregnancy, or untreated dental decay.
A misaligned tooth – In some cases, braces may not be a practical solution for a misaligned tooth. For instance, if you are a bride-to-be with only one or two teeth slightly out of place, a dental crown can provide an immediate smile transformation in a shorter time than braces would.
Three common types of crowns: Which one should I choose?
Dental crowns have three options: porcelain-fused-to-metal, metal, and Zirconia. These crowns will become permanent fixtures in your mouth. Acrylic crowns are also available, but these are temporary and typically only used while the dentist is making your permanent crown. Acrylic crowns are designed to match the color of your natural teeth.
Dental crowns, made from materials such as high gold content or nickel-chromium alloys, are known for their durability and resistance to wear, chipping, and cracking. However, their metallic appearance can be a drawback, especially considering the high cost of gold. These crowns are best for molars that are not visible.
Porcelain-fused-to-Metal crowns offer the advantage of being colour-matched to your surrounding teeth, unlike metal crowns. However, they can cause more wear on opposing teeth and may chip or break. A dark line from the underlying metal may also become visible, especially at the gum line if gums recede. These crowns are a good option for front or back teeth and for bridges that require the added strength of the metal.
Zirconia dental crowns are made from a ceramic material called zirconia, making them both strong and aesthetically pleasing. They are used to restore and improve the appearance of damaged or discoloured teeth. Unlike traditional dental crowns made from materials like porcelain, metal, or acrylic, Zirconia crowns provide a more durable and natural-looking option.
Three steps towards getting your dental crown
Getting a dental crown typically requires two to three appointments with your dentist. The process involves three main stages: examination, tooth preparation, and fixing the crown.
Examination: Your dentist will examine your tooth and assess your needs. They will take X-rays of the surrounding bone and roots of the tooth, if necessary, and may perform a root canal therapy if the tooth has severe decay or is at risk of infection or damage. The dentist will then finalize the examination and move on to the next step.
Tooth preparation: Before the crown is crafted, your dentist will numb the tooth and surrounding gum tissue. They will then reshape the chewing surface and sides of the tooth to make room for the crown. The dentist will take an impression of the tooth for the crown, which will be sent to a dental lab to create the permanent crown. The dentist will also select a colour that best matches the surrounding teeth and place a temporary crown to protect the prepped tooth while the permanent one is being made.
Receiving the permanent crown: At the second appointment, your dentist will remove the temporary crown and examine the fit and colour of the permanent crown. If everything is in order, they will numb the tooth with a local anaesthetic and securely attach the new crown.
Three problems that could develop with a dental crown?
Dental crowns are a popular and effective way to fix damaged teeth, but some potential issues may arise.
Discomfort or sensitivity: After the dental crown procedure, your newly crowned tooth may be sensitive to hot and cold temperatures if the nerve is still present in the tooth. You can use toothpaste for sensitive teeth as advised by your dentist. If you experience pain or sensitivity when biting, it may be because the crown is too high. In this case, contact your dentist to solve the problem.
Chipped crown: Crowns made entirely of porcelain or combined with metal can sometimes chip. If the chip is small, it can be repaired with composite resin, but it may need to be replaced if the chipping is severe.
Loose or fallen crown: If the cement underneath the crown washes out, the crown can come loose, allowing bacteria to rot the remaining tooth. Contact your dentist if your crown feels loose. If the crown falls off, clean both the crown and the tooth's front. You can use dental adhesive or temporary tooth cement to temporarily replace the crown until you can visit your dentist. Your dentist will provide instructions on how to take care of the tooth and crown until you can be seen for a diagnosis. If the existing crown cannot be re-cemented, a new one will need to be made
https://ezzadentalcare.com/wp-content/uploads/2023/01/man-smiling-while-female-dentist-keeping-range-fillings-1.jpg
1000
1500
Ezza Dental Care
https://ezzadentalcare.com/wp-content/uploads/2023/02/ezza-dental-logo.png
Ezza Dental Care
2023-01-31 23:29:52
2023-03-30 10:33:41
3 Must-Know Factors for Successful Dental Crowns: Types, Reasons, Steps, and Potential Outcomes