Teeth Whitening for a Brighter Smile: 4 Approaches, Risks and Success Factors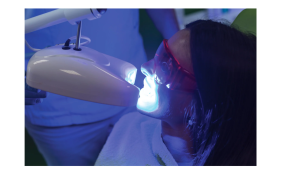 If you've been considering teeth whitening, there is no better time than now! Teeth whitening is a safe and effective way to restore your stunning smile and improve your confidence. However, before you make up your mind, let's consider the process.
Teeth whitening involves the use of chemicals to remove unwanted dental stains and discolourations. We categorize the stains as either intrinsic or extrinsic: Intrinsic stains are caused by factors within the tooth, such as trauma, medication use, or excessive fluoride ingestion while extrinsic stains are caused by external factors such as smoking, certain beverages, and poor oral hygiene.
During the teeth whitening process, a professional delicately and quickly applies chemicals to remove these unwanted stains. Hydrogen peroxide is the most common active ingredient used in teeth whitening products.
The hydrogen peroxide works to break down the stain molecules and lift them off the teeth. As hydrogen peroxide diffuses into the enamel and dentine, it produces free radicals which break down pigment molecules, altering the tooth's optical properties and making teeth whiter.
Teeth whitening is a safe and effective way to deal with unacceptable dental discolouration—and it's important to note that shade regression may occur, making retreatment necessary. In this blog, we'll cover all the different ways to whiten your teeth, factors that can affect the success of your whitening procedure, and potential risk factors to consider. This is step one in making your smile brighter than ever before!
Ready to smile? Four Things You Can Expect During Your Teeth Whitening.
Teeth whitening is an easy, quick way to improve your appearance. We can do it in one visit and doesn't require any special equipment or products. As long as you have access to a reliable dentist with experience in teeth whitening, you're good to go!
So let's talk about what's involved in getting ready for your appointment:
Personal consultation: Your dentist will assess the condition of your teeth and determine the best course of action for you. This is an essential step as it allows your dentist to customize the treatment to meet your individual needs.
Preparation: Your dentist may need to prepare your teeth by cleaning them and removing any plaque or tartar before the whitening process begins. This ensures that the whitening solution will work effectively and deliver optimal results.
Whitening: The actual teeth whitening procedure typically takes between 30 minutes to an hour. During this time, your dentist will delicately apply a whitening solution to your teeth and activate it using a special light or laser. This process effectively eliminates any dental discolouration and results in a brighter and more youthful smile.
Post-treatment care: Once the teeth whitening procedure is complete, your dentist will provide you with instructions on how to care for your teeth in the days and weeks following the treatment. This is important to ensure that you maintain your newly brightened smile for as long as possible. If you need post-treatment care tips after whitening, you can jump to that section.
By following these steps, you can expect to achieve a whiter, more radiant smile and enjoy the confidence that comes with it.
Four approaches to teeth whitening
There are several ways to whiten teeth, ranging from at-home remedies to professional treatments. Each method has its benefits and drawbacks, and the choice depends on preference and the kind of stains you want to address.
Natural remedies: Some people use natural remedies like baking soda or activated charcoal to whiten their teeth. However, the effectiveness of these methods is not well-studied, and they may even damage tooth enamel if abused.
In-office whitening: This is a professional treatment performed in a dentist's office. A high concentration of bleaching gel is applied to the teeth, and a special light is used to activate the gel and accelerate the whitening process. The whitening chemical is left on the teeth for the prescribed minutes and then removed, this process is repeated one or two more times to achieve good results. Some treatments in this category are called laser treatments if the bleaching gel used is activated with a laser.
Dentist-dispensed and patient-applied whitening with custom-fabricated trays. The whitening gel is put in custom-made trays which you wear overnight for a given number of weeks depending on the kind of stains and concentration of the whitening chemical.
Over-the-counter products for whitening, in this kind of whitening you just choose a whitening product without any professional diagnosis of the kind of stains.
Four things that affect the success of teeth whitening
If you're looking to whiten your teeth, there are different methods available to suit your needs. Here's a breakdown of the most popular teeth whitening options, along with their advantages and disadvantages:
Natural remedies: Some people prefer natural remedies like baking soda or activated charcoal for teeth whitening. However, the effectiveness of these methods is not well-studied, and they can potentially damage the enamel if used excessively.
In-office whitening: For professional treatment, you can visit your dentist's office for an in-office whitening session. This method uses a high concentration of bleaching gel, which is applied to the teeth and activated with a special light or laser. The treatment takes around 30 minutes to an hour and can achieve impressive results in a short amount of time.
Dentist-dispensed and patient-applied whitening with custom-fabricated trays: This method involves getting custom-made trays from your dentist, which you fill with a whitening gel and wear overnight for a certain number of weeks. This is a convenient option for those who prefer to whiten their teeth at home, with the guidance of a dental professional.
Over-the-counter products for whitening: If you prefer a DIY approach, over-the-counter products like whitening strips, gels, or toothpaste are widely available. However, without a professional diagnosis, you might not know what type of stains you have or what concentration of the whitening chemical you need. This method might not be as effective as professional treatments, and it could potentially cause sensitivity or damage to your teeth if used improperly.
Overall, the best teeth whitening method for you depends on your budget, preferences, and the type of stains you want to address. It's important to consult with your dentist to determine which option is right for you.
Four risk factors associated with teeth whitening.
Ensuring that you use safe teeth whitening products and follow proper application procedures can help prevent any negative side effects. However, it's important to be aware of potential risks associated with the inappropriate use or abuse of teeth whitening products, which include:
Sensitivity: The hydrogen peroxide in the whitening chemical can reach the innermost layer of the tooth, causing increased sensitivity. This is especially problematic for teeth with cavities, exposed dentine, or defective restorations.
Irritation: High concentrations of hydrogen peroxide can cause burns upon contact with the gums or other soft tissues. Failure to wash away the bleach quickly enough can result in ulceration that can take a long time to resolve.
Damage to Restorations: Teeth whitening can affect the physical and chemical properties of restorations. It can increase surface roughness, cause cracks, weaken the tooth-to-restoration bond, and even release dangerous substances such as mercury from amalgam restorations.
Enamel Damage: In rare cases, enamel damage can occur in the form of enamel dimerization, surface morphological changes, or alteration of surface micro-hardness. Over-the-counter whitening products that are not monitored by a professional are especially risky.
While there is no significant evidence of health risks associated with teeth whitening, it is important to be cautious and seek professional guidance before attempting any whitening procedure. By doing so, you can ensure that your teeth whitening experience is both safe and effective.
How to Care for Teeth Just After Whitening
Congratulations on your new bright smile! Now that you've undergone teeth whitening treatment, it's important to maintain your dazzling teeth to ensure they stay that way for as long as possible. Here are a few tips to help you care for your teeth just after your whitening treatment:
Watch what you eat and drink: To avoid any potential staining, it's best to steer clear of foods and drinks known to cause discolourations, such as coffee, tea, and red wine for the first 24 to 48 hours after your treatment.
Keep up with your oral hygiene: Regular brushing and flossing are essential for maintaining your newly whitened teeth. Consider using a whitening toothpaste to help maintain your bright smile.
Don't forget your dental check-ups: Regular dental check-ups are crucial for ensuring your teeth stay healthy and stain-free. Your dentist can guide how often you should schedule check-ups and help you maintain your white smile.
We want you to enjoy the benefits of your new smile for as long as possible. Follow these simple steps, and you'll be well on your way to a healthy, bright smile that will make you feel confident and proud.
https://ezzadentalcare.com/wp-content/uploads/2023/02/ezza-dental-logo.png
0
0
Ezza Dental Care
https://ezzadentalcare.com/wp-content/uploads/2023/02/ezza-dental-logo.png
Ezza Dental Care
2023-04-10 10:00:08
2023-05-31 19:37:39
Teeth Whitening for a Brighter Smile: 4 Approaches, Risks and Success Factors